Occupational safety and health activities
The HOYA Group is pushing for the creation of a pleasant workplace environment where every one of the employees can work in good health and safely. The Group believes that such a work environment is essential for a fulfilling life of each of the employees and a lasting development of our enterprise.
Structuring of a global management system for its environmental protection and occupational safety and health management system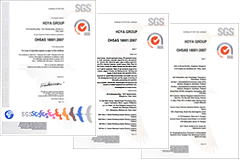 The HOYA Group has been structuring a globally-operated management system that integrates ISO (International Organization for Standardization) 14001 and 45001 for the purpose of promoting environmental protection activities by employees and ensuring the safety and health of employees.
In February 2013, the certification of the Group switched to a global multisite certification.
In March 2022, the certification is applied to 49 sites in 18 countries.
Certification has been acquired at 100% of our major production/research and development bases, and certification is also being obtained for newly organized bases one by one.
For information on our acquisition status of ISO certification, please refer to this page.
Reduction of risks using risk assessment
All hazardous factors are constantly being checked by risk assessment in accordance with the HOYA Group Risk Management Guidelines for Occupational Safety and Health. As well, effective safety measures are being taken in order of priority for risk reduction.
Strengthening of chemical substances management
Based on the HOYA Group's common index HOYA Group Chemical Substances Management Standard, we are managing chemical substances used in our business activities and working to prevent occupational accidents and diseases caused by chemical substances.
Assurance of Safety of machines and equipment
The safety of machines and equipment is a matter of greater importance in achieving occupational safety. Various measures for the safety of machines and equipment (reduction of risks) are being taken from the design stage according to the HOYA Group Standard for the Safety of Machines and Equipment to prevent machine-related accidents.
OSH Audit (Occupational safety and health)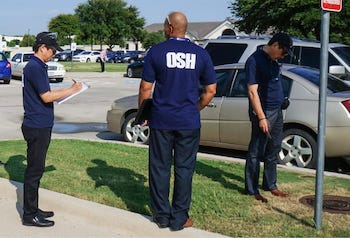 At all the Group's business facilities inside and outside Japan, the environment, occupational safety and health personnel and specialized staff conduct internal audits periodically. After the audits, they give necessary advice and guidance to respective sections to improve their observance of laws and regulations and performance of occupational safety and health.
Training in HOYA Group safety and health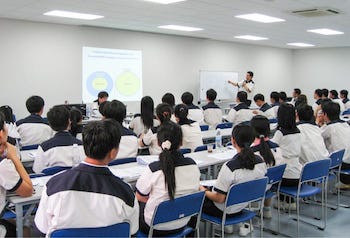 The facility environment, occupational safety and health personnel conference is held twice a year. The intra-Group consulting program for guidance and training on management systems and risk assessment is held several times a year mainly for the overseas production bases. These are all designed to enhance the performance of the occupational safety and health activities within the HOYA Group.
Health promotion activities
CEO message on the health of our employees
Based on the recognition that "health promotion efforts are business investments," the HOYA Group aims to maintain and promote the health of employees through organizational support and self-help efforts by employees themselves. In April 2015, the CEO issued a message to employees on 10 items that employees are encouraged to adhere to for the promotion of health.
Certification for health and productivity management organizations

The HOYA Group has been certified for five consecutive years under the Ministry of Economy, Trade and Industry (METI)'s certification program for outstanding health and productivity management organizations since the start of the program in 2017 (as of April 1, 2021). This program is administered by METI jointly with Nippon Kenko Kaigi and in coordination with insurers to certify and announce companies practicing excellent health and productivity management. HOYA is practicing health and productivity management on a daily basis.
Mental health promotion
HOYA provides mental health education by industrial physicians for managers and general employees to deepen their understanding of mental healthcare. HOYA has also established the HOYA Group Mental Healthcare Guidelines to ensure sufficient line care by managers and to clarify the roles of the manager, the person in charge of personnel affairs, and the industrial physician in the introduction of treatment and reinstatement responses to ensure efficient coordination among them. Furthermore, HOYA is engaged in initiatives to improve the work environment on an ongoing basis by conducting stress checks on employees and utilizing their organizational analysis results.
Overwork prevention
HOYA has established the HOYA Group Standard for the Prevention of Overwork-related Health Problems, which is in compliance with industrial safety and health laws and regulations, and has implemented it at all HOYA Group companies. Workers with long working hours are required to have an interview with an industrial physician, and a system has been put in place to ensure the person in charge of personnel affairs, the manager, and the industrial physician work together to slash long working hours from the perspectives of both labor management and health management. In addition, as part of workstyle reform, HOYA is strengthening efforts to steadily improve the utilization rate of annual paid leave.
Smoking control
To prevent passive smoking, indoor smoking has been prohibited in principle in all facilities located in Japan and overseas since April 2008. HOYA has also established a standard for the designation of outdoor smoking spaces to prevent any passive smoking by passersby or people taking a break. Furthermore, we have adopted stricter rules to prevent passive smoking in April 2018 to ensure that for parties, dinners etc., hosted by HOYA, a venue that is entirely non-smoking or provides a separate smoking area will be selected. HOYA introduced rules to totally prohibit smoking at all facilities inside and outside Japan during the regular working hours from fiscal 2021. HOYA aims to create a comfortable work environment at the workplace where employees spend a significant part of their living hours.
Specific Health Checkups and Specific Health Guidanc
As part of efforts to prevent metabolic syndrome, HOYA has provided health guidance focusing on the prevention of lifestyle diseases of employees (lifestyle improvement program) in coordination with the health insurance association since 2002 before the start of the national Specific Health Guidance program. The scope of the health guidance has been expanded to cover employees less than 40 years old (the milestone ages of 25, 30, and 35 years old) for the early detection and treatment of lifestyle-related disease. We also monitor the participation rate and the achievement rate of Specific Health Checkups and Specific Health Guidance annually and are considering the introduction of a program to improve the participation rate.
Improving medical support at overseas facilities
At the HOYA Group, industrial physicians make regular visits to overseas facilities to support the coordination between local medical institutions and each facility. Under this arrangement, the coordination between local medical institutions and the facility enables both local employees and Japanese expats to receive appropriate and prompt medical services in the event of an emergency situation and for the management of chronic diseases.
Improving emergency medical care and first aid responses
We have established the HOYA Group Standard for Emergency Medical Care and First Aid to provide appropriate emergency medical care and first aid in the event of a workplace accident or an emergency situation and thereby to minimize health damage of employees. Based on this Standard, we work to ensure the proper installation and management of first aid equipment and to ensure that all employees ultimately receive lifesaving training to prepare for emergencies. Some of the facilities are equipped with an AED on the condition that at least two workers who have completed lifesaving training are assigned to each work shift.